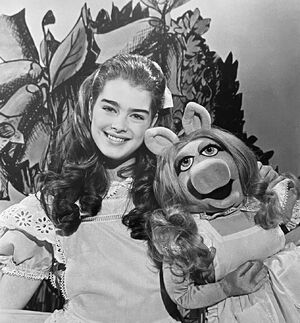 Brooke Shields (b. 1965) was the guest star on The Muppet Show episode 506. She holds the record for being the youngest guest star on the show; she was 14 years old at the time.
She also made a cameo appearance as a patron of Pete's Luncheonette in the film The Muppets Take Manhattan, and in 1984 was the cover star on Muppet Magazine issue 7.
Shields contributed a "Vegetable Health Soup" recipe for Miss Piggy's 1996 cookbook, In the Kitchen with Miss Piggy.
On December 9, 2001, Brooke appeared onstage with Kermit during The Muppet Show Live, donning a pig nose, blond wig, feather boa and purple gloves to sing "Never Before, Never Again" with "Kermie" in Miss Piggy's stead.
Her other roles include guest appearances on Quantum Leap, Tales from the Crypt, Friends, Hannah Montana, and The Middle. She played Susan Keane on the TV sitcom Suddenly Susan (1996-2000). She also provided the voice of Mother Bear on the Henson Company's Unstable Fables DVD. Between the years of 1980 and 1985, she appeared on more than 300 magazine covers internationally.
References
In the Elmo's World episode "Books," the Book Channel advertises the show "Our Miss Books," starring Book Shields.
External links