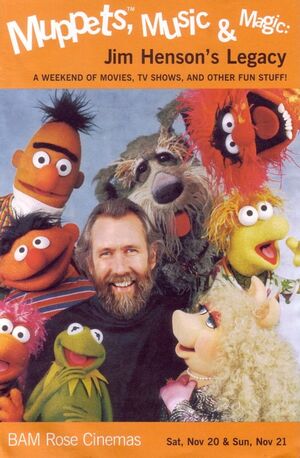 The Brooklyn Academy of Music (BAM) held a special event Muppets, Music & Magic: Jim Henson's Legacy on November 20th and 21st, 2004. The weekend festival included screenings of Henson films, TV shows, and rare footage at BAM Rose Cinemas.
Screenings of rare works by Jim Henson were hosted by the Jim Henson Legacy's Craig Shemin, with a variety of panelists that included Martin Baker, Robbie Barnett, Fran Brill, Kevin Clash, Stephanie D'Abruzzo, Bonnie Erickson, Karen Falk, Michael Frith, Cheryl Henson, Jane Henson, Lisa Henson, Jerry Juhl, John Kennedy, Kathryn Mullen, Jerry Nelson and Caroll Spinney.
Spinney hosted a screening of Follow That Bird, and conducted a question and answer period between himself, Oscar the Grouch, and the audience after the film. He later held a signing for his book The Wisdom of Big Bird.
It was at this event that it was announced that Disney was planning to release the first season of The Muppet Show on DVD, and people who worked on the event (as well as some fans) were interviewed for a special feature about Jim Henson. (This feature wasn't included in the first season set and has yet to be released on DVD).
The Jim Henson Muppet Action Figure was first made available to the public on the morning of November 20 at a kiosk in the lobby of the BAM Rose Cinemas.
BAM has since been a partner with the Jim Henson Legacy to help bring similar programs to other outlets.
In 2009, BAM hosted Sesame Street: A Celebration!
On May 16, 2012, Frank Oz made a special appearance at BAM for two screenings of his directed films at the "Night of Oz" exhibit: Little Shop of Horrors and Dirty Rotten Scoundrels.
From October 24-26 2014, BAM hosted the Puppets on Film series, presented BAMcinématek and The Jim Henson Foundation. The festival featured screenings of The Dark Crystal, Muppets Most Wanted, and I Am Big Bird. Special guests included Brian Froud, Wendy Froud, Toby Froud, Dave LaMattina, Chad Walker, Caroll Spinney, and Matt Vogel (with Constantine).
External links
Community content is available under
CC-BY-SA
unless otherwise noted.