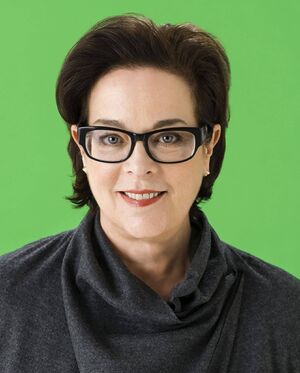 Brown Johnson joined Sesame Workshop in 2014 as a creative consultant, and then served as Executive Vice President and Creative Director from 2015 through 2020. In the latter role, she executive produced Sesame Street from seasons 47 to 51. Her producer credits include many programs for Nickelodeon, such as Clarissa Explains It All, Eureeka's Castle, Dora the Explorer, and Blue's Clues.
Official Bio[1]
"Brown Johnson is the Executive Vice President and Creative Director at Sesame Workshop. Johnson is responsible for the development and production of the Workshop's domestic television content, as well as Education and Creative Services.

Johnson is an award-winning producer of some of the most successful children's programs. She pioneered the interactive format of the groundbreaking preschool programs Dora the Explorer and Blue's Clues. She also conceived and oversaw the development of the Nickelodeon preschool block featuring hit shows including Go Diego Go!, Yo Gabba Gabba!, Team UmiZoomi, The Backyardigans, and Ni Hao Kai Lan. Johnson led the creative development to extend the preschool block online and through retail. Many of the programs she created and managed showcase characters of diverse ethnicities. Her focus on the development of multi-ethnic children's media spurred Johnson to create fellowships in writing and animation designed to grow the next generation of diverse creators.

Before joining the Workshop, she served as President of Animation and Preschool Entertainment at Nickelodeon, where she managed development and production of more than 200 episodes of programming each year. In Johnson's more than 20 years with Nickelodeon, she received multiple Emmy Awards, Television Critics Awards, three Peabody Awards, Imagen, and NAACP Image Awards. Johnson serves on the advisory board of Peter Gabriel's WITNESS foundation, the board of governors of the We Are Family Foundation, the Ambassador Council of the Geena Davis Institute on Gender in Media, and is a graduate student mentor for the USC John C. Hensch Division of Animation and Digital Arts."
Credits
Sources
Community content is available under
CC-BY-SA
unless otherwise noted.