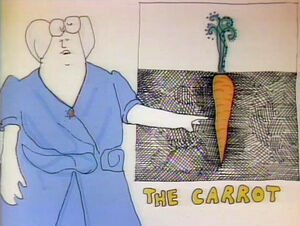 Bruce Somers Cayard designed and produced many classic animated segments for Sesame Street and The Electric Company, beginning in the early 1970s and continuing as late as 1999.
Cayard's work had a distinctive cartoonish style, though the actual animation was generally in the hands of others, including John Canemaker for the early shorts and, for the later pixelated segments, ArtistMike. These later pieces were animated on an Amiga computer, but still reflected Cayard's sketchy design style. For some segments (such as "L Look Around Song" and "Me and My M"), Cayard composed music and wrote lyrics. For later segments, he wrote lyrics only with music usually by Robby Merkin or Phil Baron.
Cayard also produced animated openings and segments for Bob Keeshan's Captain Kangaroo, and illustrated several books including The Anti-Diet (1971) by Lynn Donovan McCann,[1] It May Come in Handy Someday (1975) by Ann Tompert,[2] and A Children's Almanac of Words at Play (1982) by Willard R. Espy.[3]
Sesame Filmography
Snacks on Parade
Great Inventor Series
Dr. Annie Eyeball
Nancy Einstein
Others
Sources
↑ The Sydney Morning Herald, November 5, 1972
↑ The Courier-Journal (Louisville, Kentucky), November 16, 1975
↑ The Daily Item (Sunbury, Pennsylvania) December 21, 1982
External links