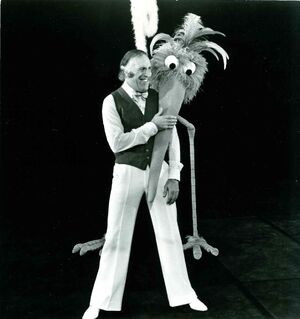 Sir Bruce Joseph Forsyth-Johnson, CBE (1928-2017) was a British TV celebrity and versatile entertainer who guest starred in episode 113 of The Muppet Show. He was best known by American audiences for his supporting roles in Star! (with Julie Andrews) and Disney film Bedknobs and Broomsticks.
Forsyth became famous in England for hosting several TV game shows including Play Your Cards Right (the British version of Card Sharks), The Generation Game, the 1990s run of The Price is Right and Strictly Come Dancing. He has created memorable catchphrases for each game show, the most famous of which have included "Nice to see you, to see you nice," "Give us a twirl," "Good Game, Good Game," and "Didn't they do well!" He also briefly hosted a game show in the US, Hot Streak on ABC in the 1986-87 season, but it was quickly cancelled due to heavy competition from The Price Is Right and Wheel of Fortune.
He was made an Officer of the Order of the British Empire in 1998 and a Commander in 2006. He was knighted in 2011.
During the 1990s Miss Piggy was reunited with Forsyth on Bruce's Guest Night where they both sang "Let There Be Love". In 2008, Piggy recorded a happy 80th birthday message to Bruce for the BBC television special Happy Birthday Brucie!.
External links
Community content is available under
CC-BY-SA
unless otherwise noted.