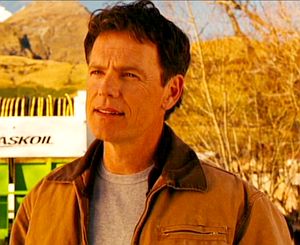 Bruce Greenwood (b. 1956) starred as Sean Cambell in the 2005 Creature Shop movie Mee-Shee: The Water Giant.
Greenwood is a Canadian actor, best known in the US for his roles in such films as I, Robot, The Core, Thirteen Days (as President John F. Kennedy), and Capote (as Jack Dunphy, Truman Capote's lover). He recently starred as Mitch Yost on the HBO series John From Cincinnati.
On television, Greenwood has had regular roles on St. Elsewhere (Dr. Seth Griffin, 1986-1988), Knots Landing (Pierce Lawton, 1991-1992) and the UPN series Nowhere Man (1995-1996) (as Thomas Veil).
External links