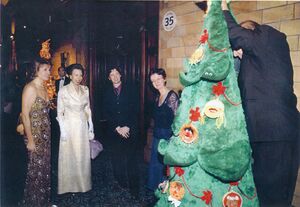 Bruce McSpruce (Latin name Arboreus Picies Muppetus) was specially created by The Jim Henson Company for the annual fundraiser, for Save The Children, The Festival of Trees (2002).
"

Big hearted and worldly, if a trifle pompous at times, Bruce likes nothing better than to be centre of attention at Christmas time.

The foliage and body of the tree are made of fabric, in true Muppet-making tradition. To operate it, the performer squeezes into the back of the puppet to sit on an inbuilt stool. One hand operates the tree's mouth and the other fits glove-like into the 'Star' puppet at the top of the tree.

The tree's decorations consist of handmade felt portraits of classic Muppet characters that include Kermit the Frog, Miss Piggy, The Great Gonzo, Fozzie Bear, The Swedish Chef, Animal, Rowlf, and of course those two grumpy old men from The Muppet Show theatre box; Statler and Waldorf. Part of the fun of the tree will be to spot your favourite characters.

The tree comes with a selection of Muppet licensed products and a plane ticket for two to New York.[1]"
The tree was on public display from November 29 until December 2, 2002 at Coutts & Co 440 The Strand, in London's West End.
At the preview event and gala ceremony Mak Wilson performed the puppet.
Bruce McSpruce was sold for £12,000. The buyer donated it to Richard House Hospice in East London.[2]
See also
Sources
↑

From the events programme

↑

Sara Cunningham, Save the Children
External Links