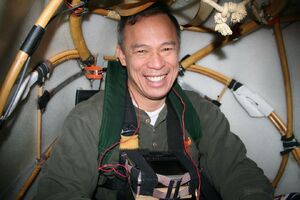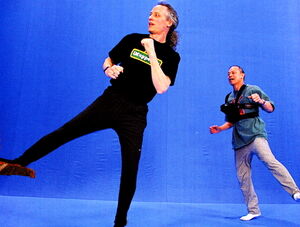 Bryant Young (b. April 23, 1957) is a dancer and choreographer who has performed the back half of Mr. Snuffleupagus on Sesame Street since 1979. He has occasionally performed the role of Barkley, assisted with characters' right hands[2] and played human characters.[3]
As a choreographer, Young has worked on dances for the show itself (including Snuffy's occasional dance steps and some Baby Tooth and the Fuzzy Funk segments) and the Sesame floats at the Macy's Thanksgiving Day Parade.
Young received an Emmy nomination for his role in a Dance in America series with the New York City Ballet. In the mid-1980s, he represented the United States in an International Ballet Festival in Seoul, Korea. He is now the Administrative Assistant and Assistant Director of the Briansky Saratoga Ballet Center in Saratoga Springs, New York. Other puppetry credits include work on The Book of Pooh.
Credits
Sources
External links