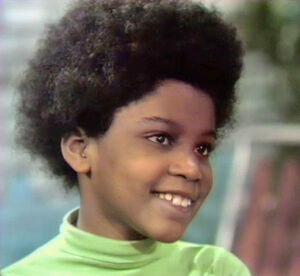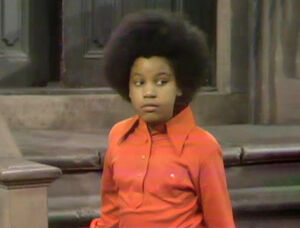 Brynne is one of the kids who appeared on Sesame Street beginning in the first season, recurring for at least the next five years.
Appearing both in segments and street scenes, one of her more prominent appearances was in Episode 0327 where she features in a narrative that encourages the viewer to imagine what it would be like if they were the only person on Sesame Street. Brynne serves as the surrogate for the viewing audience and fills in for the roles left vacant by the absence of the neighborhood's residents. Her imaginary sequence includes taking requests at Hooper's Store as its proprietor Mr. Hooper, working as a courier in place of Tom who's been ordered to make a delivery to Ernie, delivering the mail (and complaining about fatigue) like Molly does, eating birdseed as Big Bird in his nest, rapping about the alphabet like that "swinging" letter Q, and demanding some peace and quiet as Oscar the Grouch from his trash can. When the fantasy ends, she and the real Mr. Hooper agree that it might be fun, but also a little lonely; they both prefer it the way it is in reality.
Another stand-out moment was a segment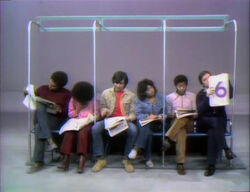 in which she shares the stage with Gordon, David, Maria, Luis, and Bob. As travelers on a minimalist bus, each rider holds their own numbered newspaper, appearing out of thin air to be counted in voiceover by Jerry Nelson. Brynne holds the number 2 newspaper as the narrator counts backwards from six while they each disappear again. (First: Episode 0469)
Brynne also appeared in several celebrity segments, such as a series of football passes in the yard with some other kids (including Joey Calvan) and professional player Joe Namath, the musical number "To Be Young, Gifted and Black" with Nina Simone and her daughter, and the youth-filled assembly in which Jesse Jackson recited "I Am - Somebody".
Brynne in Episode 0327 as...
Street scenes