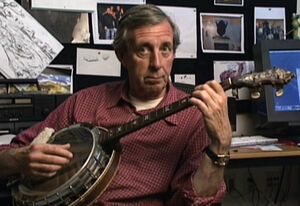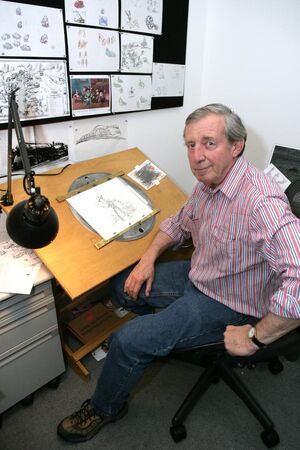 William Luckey (1934-2018) was an animator, known for his work at Pixar, who directed Sesame Street animated inserts beginning in 1971, including a total of 14 counting films. Luckey composed the songs for these shorts, notably "The Alligator King," in collaboration with co-lyricist Don Hadley, and provided the balladeer-style vocals for some of the entries. The music for these shorts was provided by jazz legend Turk Murphy and his band with Luckey playing banjo.
In addition, Luckey provided the line drawing illustrations for The Sesame Street Neighborhood Coloring Book, published by Western Publishing in 1976.
Luckey, was born and raised in Billings, Montana, and following a stint in the Air Force during the Korean War, moved to Los Angeles to attend the Chouinard Art Institute (now Cal Arts). He began his career as an inbetweener for Disney animator Art Babbitt's commercial studio. After a short stint animating on The Alvin Show in 1961, Luckey moved to San Francisco, working as an art director for television ads. While in San Francisco, Luckey created his Sesame Street segments. He also served as an animator on long-time-friend Fred Wolf's 1974 feature The Incredible Adventures of the Mouse and His Child.
From 1968 to 1984, Luckey owned and managed an animation studio, where he animated and directed commercials, then spent two years working on early computer-based educational games. In 1986, he joined Colossal Pictures in San Francisco as animator, director and trainer/mentor. He then joined Pixar in 1992, after being recruited by friend and future Monsters Inc. director Pete Docter. Luckey is credited with designing Woody and other characters for Toy Story, and worked as a designer and artist on most of the studio's films through Toy Story 3. Luckey also wrote, directed, and provided the vocals on the 2004 Oscar nominated short Boundin', and was heard in the Pixar feature film from the same year, The Incredibles, as government official Rick Dicker. Luckey also lent his voice to Chuckles the clown in Toy Story 3, and Eeyore in Disney's 2011 film Winnie the Pooh.
In a brief documentary titled "Who is Bud Luckey?", featured on the Incredibles DVD set, Luckey reminisced about his experience at Sesame Street.
Sesame Street Filmography