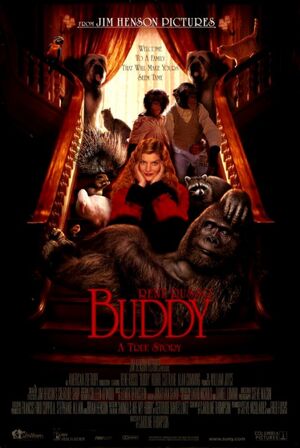 Buddy was the first film produced by Jim Henson Pictures.
The story concerns an animal lover (Rene Russo) who takes in a baby gorilla (the titular Buddy) and attempts to raise him in a domestic environment.
The film was inspired by the true story of Getrude Davies Lintz, whose book Animals Are My Hobby was the basis for the screenplay.
Cast
Creature Shop Cast
Credits
Production Supervisor: Pete Coogan
Creature Shop Supervisor: John Stephenson
"Buddy" Project Supervisor: Jamie Courtier
Key Sculptors: Nigel Booth, Jeremy Hunt, Ray Scott
Sculptors: Carole de Jong, Chris Fitzgerald, Graham High, Ivan Manzella, Stewart Sewell
Suit Fabrication Supervisor: Nike Lyons
Key Fabricators: Alix Harwood, Daria Gibson
Costume Fabrication: Denise Basely, Sam Broadbent, Giselle Grant, Louisa Jordan, Nicola Tedman, Lesley Ann Ward
Key Animatronic Designers: Richard Darwin, Chris Howes, Jamie Jackson-Moore, Tim Jordan, Jim Machin, Adrian Parish
Animatronic Designers: Marion Appleton, Dan Burnett, Robin Ellis, Tarnzine Hanks, Guy Stevens, Bill Whyte, Simon Williams, Michelle Woodall
Workshop Supervisor: Geoff Paige
Hair Supervisor: Vicky Stockwell
Foam lab supervisor: Marie Cowie-Fraser
Model/Mould shop supervisor: Kenny Wilson
Mould Makers: Doug Allan, Phil Babbage, Mel Coleman, Barry Fowler, Dave Kelly, Mickey Ricci, Terry Sibley
Silicone technician: Simon Clutterbuck
Electronics Supervisor: James O'Connor
Electronics Technician: Julian Manning
Electronics R&D/Control System Designer: Dave Housman
Buddy Performance Coordinators: Peter Elliott, Mak Wilson
External links