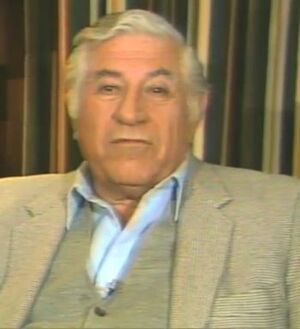 Buddy Arnold (1915 - 2004) was one of the main writers for The Jimmy Dean Show. He worked with Jim Henson and Jerry Juhl in writing many of the Jimmy Dean and Rowlf the Dog sketches for the program. Arnold also wrote for The Jackie Gleason Show, Milton Berle's Texaco Star Theater, Car 54, Where Are You?, and wrote song lyrics (including for The Ed Sullivan Show).
Buddy Arnold has been cited by both Henson and Juhl as a great comedy mentor, helping them get started in comedy writing and production while working on The Jimmy Dean Show.
Jim Henson: The Works quotes Henson as saying "They would work with me in terms of performance and the delivery of punch lines. Buddy Arnold was an old-fashioned sock-'em joke person and you can learn a lot from those guys. You learn to put the funniest word at the end of the punch line, and you learn to deliver that line clean and sharp. If you stumble on your phrase, you've killed your laugh and the audience never knows it...So Jimmy Dean was great from a point of view of learning the craft, and Rowlf was the first solid, fully rounded personality we did."
External links
Community content is available under
CC-BY-SA
unless otherwise noted.