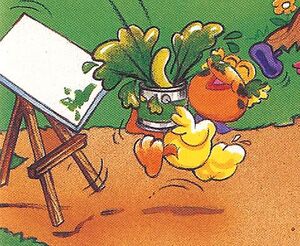 Buddy Bird is a member of the Birds-of-a-Feather club in the Big Bird StoryMagic book The Colors of Spring. Along with his fellow club members Little Bird, Holly Bird, Maxwell Bird, Becca Bird and Billy Bird, Buddy is attempting to earn his "Know-Your-Colors" badge.
On the front steps of 123 Sesame Street, Buddy paints a bee for the color yellow, as well as a school bus. While painting a tree for the color green, Oscar's friend Iggy the Inchworm inches out of Oscar's hand and splashes into Buddy's green paint, turning him the same color in the process.
After falling over a spilled picnic lunch in the park, the birds begin to head home when a gray cloud rolls over head and begins to rain down on them. Washing them clean, the once again yellow birds stay in the park to paint a rainbow for their badges.
Community content is available under
CC-BY-SA
unless otherwise noted.