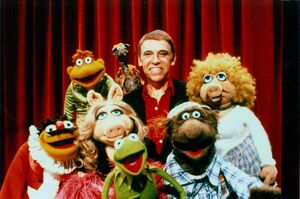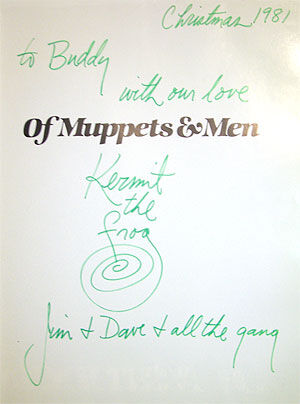 Buddy Rich (1917-1987) was considered the greatest jazz drummer in the world. Beginning in vaudeville as a teenager, Rich established himself as a premier jazz percussionist, performing with many of the pioneering big band groups from the '30s through the '50s, including the aggregations of Artie Shaw, Tommy Dorsey, Les Brown, and Harry James, before forming his own band.
He was the guest star in The Muppet Show episode 522. Rich spoke positively of the experience in a 1981 interview:
"The thing that's good about it is; I felt like a Muppet myself; I was like a kid, playing with those guys, because that's how they made me feel. Singing the song was a knockout to me: the silly karate thing with Miss Piggy was beautiful, I thought; the playing on the walls, chairs and everything was a great idea of theirs. Then, of course, the battle at the end with Animal; to play opposite Ronnie Verrell— one of my all-time favorite drummers, along with Kenny Clare—was a total gas to me. That one week will go down as one of the most positive weeks in my career. I loved it—and I thank them.[1]"
References
In a series of mock break-out quotes on the back of the 1977 Sesame Street album Big Bird Leads the Band, Rich is one of several music personalities spoofed. Drummer "Budgie Rich" calls the album "A musical tweet."
For an interview with Dr. Teeth and the Electric Mayhem to promote the Muppets, when asked who their musical influences have been, Animal responds with "Krupa! Rich! Moon! Baker!," which are the drummers Gene Krupa, Buddy Rich, Keith Moon of The Who and Ginger Baker of Cream and Blind Faith.[2]
Sources
External links