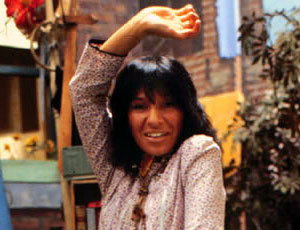 Buffy appeared on Sesame Street from 1975 to 1981. She first appeared in episode 0802, at the start of Season 7.
Buffy has a husband named Sheldon and a son named Dakota (also known as Cody) who was born in Season 8. Buffy was a fictionalized version of her actress, occasionally being recognized as a famous singer, such as "I'm Gonna Be a Country Girl" and Episode 1560, where her songs are played on the radio.
When Cody was born and everybody's attention turned to him, Big Bird shut himself in his nest area, posting a "KEEP OUT! This means you!" sign on his door. Buffy explained to Big Bird, in song, that she loves "different people in different ways."
Buffy breastfed Dakota in one episode; a former Canadian politician commented that "I remember seeing that and thinking about how proud she made aboriginal women because nursing is a part of our culture. During those days it was kind of a hidden thing, so to see Buffy doing it on Sesame Street was really something."[1]
In Season 9, most of the Sesame Street gang traveled to Hawaii to visit Buffy and her family, who, at the time, lived there on a Native American reservation. Buffy and her family would continue to fly back to Sesame Street for visits from time to time as far as season 12. The family would typically stay with Maria during these visits, but in season 12, Buffy and Cody took up residence in Oscar's trash can instead.
2011 breastfeeding petition
The website Care2 launched a press release called "Bring Breastfeeding Back to Sesame Street!", started on January 2, 2012. Comparing Buffy with previous segments, the group sought to have breast feeding shown alongside bottle feeding. In response, Sesame Workshop noted that their current curriculum was STEM (science, technology, engineering and math), and that they "have depicted breast-feeding in the past when it was a natural part of the storyline."[2]
Songs
Sources
↑ Memory Mcleod, "Canadian icon wears her many hats well", The Leader-Post, November 10, 2008.
↑ Aimee Tjader, "Moms: Bring breast-feeding back to Sesame Street", Star Tribune, 16 January 2012.
Community content is available under
CC-BY-SA
unless otherwise noted.