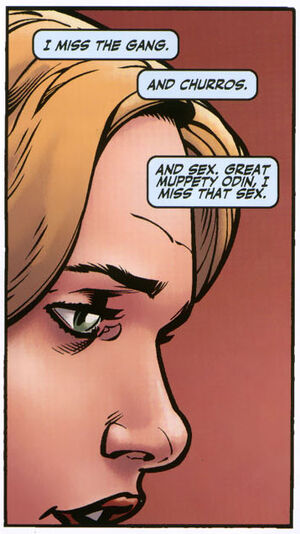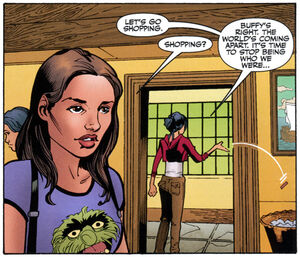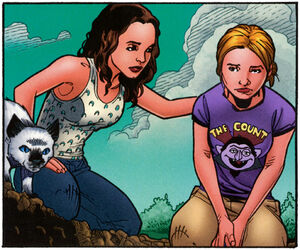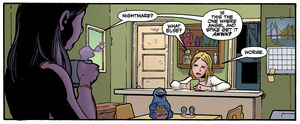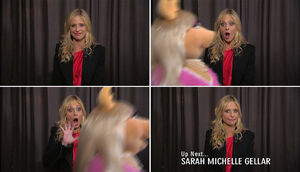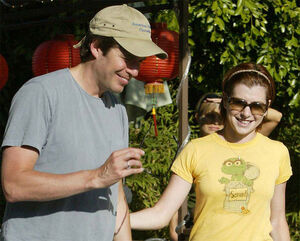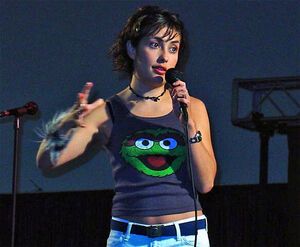 Buffy the Vampire Slayer is a television series, based on the 1992 film of the same name, which ran from 1997 until 2003. It was created by Joss Whedon and starred Sarah Michelle Gellar. The series combined humor with horror in following the title character's battle against evil and the turmoil of young adulthood. Buffy and its spin-off series Angel have made several references to Muppet projects.
Muppet Mentions
From the unaired pilot (Xander is pointing out which high school kids belong to what cliques)...
From the episode "Get It Done" (The gang is trying to find their enemy's weakness)...
From the episode "Buffy vs Dracula" (Xander doesn't believe a vampire is the real Dracula)...
From the episode "Bad Girls" (After the two slayers defeat some vampires)...
The title of the episode "The Puppet Show" is a take on The Muppet Show and has been mistakenly listed as such on some fan websites.
In the canonical comic book story written by Joss Whedon that follows the television series, Buffy makes reference to the term Jim Henson coined for his puppet act as an adjective for a Norse god in expressing her feelings about sexual intimacy.
Issue #22 of the same comic book title features Kennedy wearing a shirt with Animal from The Muppet Show. On the series, Kennedy was played by Iyari Limon who has been photographed at fan conventions wearing an Oscar the Grouch t-shirt.
In issue #28, Georges Jeanty depicts Buffy wearing a t-shirt of The Count. The illustration is that of an actual licensed shirt.
References
Sesame Street Episode 4220 makes a subtle reference to the Buffy musical episode "Once More with Feeling" from 2001. Both stories are about the characters falling under a spell that makes them sing involuntarily. David Fury celebrates the removal of a mustard stain from his red shirt, while Chris requests that Leela help him get the mustard stain out of his red shirt. video
A poster of "Once More with Feeling" decorates the wall of Sesame Street's green room, as seen in a photo of Emmy Rossum published on Sesame Street's Instagram account on April 8, 2014.
Connections
Joss Whedon's father Tom Whedon co-wrote the Muppet production Hey Cinderella! and worked for the Children's Television Workshop as head writer on The Electric Company. Other Buffy cast and crew have worked on Muppet/Creature Shop projects:
Community content is available under
CC-BY-SA
unless otherwise noted.