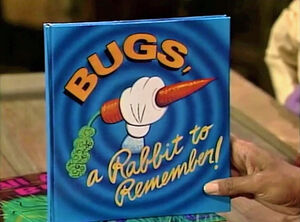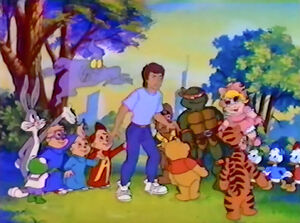 Bugs Bunny is the most famous character in the Warner Bros. stable of animated characters, having starred in hundreds of Looney Tunes shorts and other productions. Although formative versions of the character dated to 1938, the fully realized Bugs Bunny is generally recognized as having made his debut in the 1940 Academy Award-nominated short subject A Wild Hare. He was voiced here by Mel Blanc, who would continue to perform the character until his death in 1989.
Bugs, along with Daffy Duck, appeared with Baby Kermit, Baby Piggy, and Baby Gonzo in the 1990 animated television special Cartoon All-Stars to the Rescue and hours later appeared on The Earth Day Special, which featured Kermit the Frog among others. Bugs also appeared in the pro-recycling short "Yakety Yak - Take It Back," which appeared on Sesame Street in the 1990s.
References
Notes
External links
Community content is available under
CC-BY-SA
unless otherwise noted.