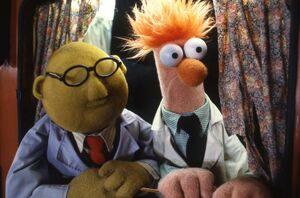 Dr. Bunsen Honeydew has a particularly close relationship with his assistant Beaker which has led to conjecture and speculation regarding the nature of the duo's arrangement. While often ambiguous, and never explicitly stated, some interactions could be interpreted as either romantic in nature or merely the result of a deep Muppet "bromance."
Bunsen often refers to Beaker with the pet-name "Beakie" and, on multiple occasions, has called him "Beakie-Poo." The two share a close bond with some level of emotional intimacy. However, there has been no explicit evidence that their relationship is romantic or sexual in nature.
Similar to Ernie and Bert's relationship, their interactions and occasional affectionate personas have led to speculation from viewers as to the true nature of the relationship, the sexual orientation of the pair, and the question of if they are actually "more than just friends."
| Image | Notes |
| --- | --- |
| | In episode 418 of The Muppet Show, Bunsen puts his milking machine on Beaker's head and says he looks "hauntingly attractive today!" Then he puts his head on Beaker's shoulder and sighs. |
| | When Beaker goes off on a Star Trek cruise with George Takei in episode 211 of Muppets Tonight, Bunsen realizes his life is very empty without Beaker. |
| | In Muppets Tonight episode 208, Bunsen and Beaker sunbathe by the side of the pool together in bikinis. |
| | In one Muppetisms segment, the duo conduct an experiment to see if penguins enjoy dancing the bunny hop (they do). Afterwards, they decide to see if the penguins like the mambo. Bunsen is visibly impressed by Beaker's dancing, calling it "marvelous". After the scene cuts away, with the mambo still going strong, Bunsen is heard stating that it's his turn to lead their dance now. |
| | During 2008's A Muppets Christmas: Letters to Santa's finale song "My Best Christmas Yet," Beaker is dancing with meeping model Petra Nemcova. Bunsen comes across the duo and happily exclaims, "Beaker, you came back!" asking Nemcova, "May I cut in?" She offers her hands to Bunsen, only to see him start dancing with Beaker instead. Nemcova, who is left standing alone, replies with a lugubrious "Meep, meep." |
| | Beaker has a framed photo of Bunsen on his desk in the "Dust in the Wind" music video released in 2010. |
| | In 2015's "Flowers on the Wall" music video, a lonesome Beaker stages a pretend dinner date with a lime green balloon with painted-on glasses floating from a lab-coat hanger, standing in for Bunsen. The date quickly (and literally) goes up in flames through a series of mishaps. |
| | In the same music video, Beaker later constructs a Bunsen-lookalike purely out of playing cards, with hearts symbol cards prominently positioned as Bunsen's eyes (glasses), nose, collar and tie. |
| | In 2015's The Muppets episode "Pig Out" after a night out and the two singing "I Got You Babe" with each other at the bar, Kermit asks the hungover duo, "Bunsen and Beaker, why are you wearing each other's clothes?", to which Beaker tries to mutter a meeping explanation before Bunsen stops him, quickly interjecting, "If it happens outside of work, we don't owe 'em an explanation!" |
| | In a behind-the-scenes video for 2015's Warburtons commercial for Giant Crumpets, Bunsen suggests "Beakie, maybe we should turn the lights down in here!" before leeringly wobbling his head at his assistant. |
| | In the live show The Muppets Take the O2, Bunsen and Beaker remind the audience to turn off their devices. After Beaker shows the unfortunate effect of not doing so, Bunsen remarks, "Thank you for demonstrating, Beakie," and audibly kisses him on the cheek. |
External links
Community content is available under
CC-BY-SA
unless otherwise noted.