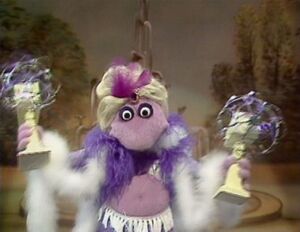 Burlesque was a popular form of variety stage entertainment, often seen as a competitor to vaudeville houses but with a lower tone of comedy and a greater emphasis on scantily clad women. The earliest version developed in the 1890s from Victorian burlesque shows, which parodied literature or popular plays, but on a cheaper scale and with revealingly clad chorus girls. As chorus girls gave way to striptease acts, sex and titillation came to define burlesque. Gypsy Rose Lee became a star stripper in burlesque, while other performers often incorporated items such as fans, bubbles, or veils. Minsky's burlesque theaters in New York City, which added a runway for the women to enter the audience, were frequently subject to raids on charges of obscenity.
Burlesque comedians, often in pairs, relied more on slapstick and innuendo, and sketches such as "Niagara Falls (Slowly I Turned)" or various shell game routines originated in burlesque and later made their way to vaudeville or radio and television. Performers who started in burlesque before moving to wider venues included Abbott and Costello ("Who's on First" and other routines came from burlesque), Phil Silvers, Red Buttons, Jerry Lester, and Jackie Gleason.
In 1942, Mayor LaGuardia shut down burlesque houses in New York. While they continued in other cities, night clubs formed less expensive competition, and as emphasis on the striptease portions expanded, burlesque faded and by the 1970s was replaced by nude clubs. Periodic revivals and salutes to the heyday, such as the Broadway musical Sugar Babies, cropped up later in the decade, while by the 21st century, "neo burlesque" shows popped up, usually minus the crosstalk comedy. Laugh-In, borrowing from various comedy traditions and cliches, used burlesque routines, such as the courtroom sketches.
References
Time Piece features a later version of a burlesque show, with a dance team, slapstick comedy, and a striptease dancer, played by actual late-era burlesque dancer April March.
Lola the Fan Dancer in episode 523 parodies a type of burlesque dance, particularly associated with Sally Rand and her large feathered fans. In this case however, Lola uses the air-blowing appliance type of fan.