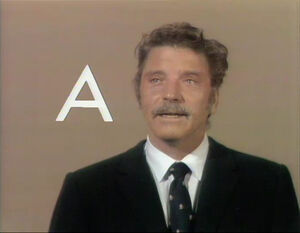 Burt Lancaster (1913-1994) was an Oscar-winning actor best known for his starring roles in From Here to Eternity and Birdman of Alcatraz.
He appeared in several skits starting in the first season of Sesame Street.
In Episode 0005, he talked about what he does when he is happy and angry. He concludes by saying that when he is home he watches Sesame Street.
In another skit he recites the alphabet. The insert appeared in a number of episodes, beginning with Episode 0006.
Lancaster also appeared in a counting segment, reciting numbers while performing push-ups, which first appeared in Episode 0010.
In episode 204 of The Muppet Show, Mildred Huxtetter randomly mentions her love for Burt Lancaster, prompting Rich Little to do an impression.
Additional credits include the films Barnum, Field of Dreams, Buffalo Bill and the Indians, or Sitting Bull's History Lesson, and the television specials I Love Liberty and Night of 100 Stars.
External links