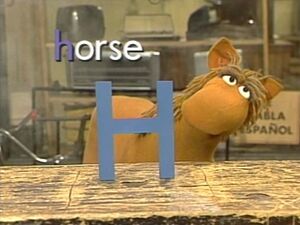 Buster the Horse is Forgetful Jones' trusty horse. He first appeared on Sesame Street in 1980, and remained a regular until at least 1995, though he has since popped in from time to time.
Buster often helps Forgetful Jones remember things, like brushing his teeth. When he isn't seen in Forgetful's company, he is often teaching his various neighbors how to expand their vocabulary, with words such as "abominable," "flabbergasted," and "splendiferous." To say that Buster is no ordinary horse is an understatement. Besides having the ability to speak, Buster is capable of brushing his owner's teeth with his hooves, singing, and driving a jeep.
After the death of Richard Hunt (Forgetful's performer), Buster continued to make solo appearances. His appearances in Season 36 related to the season's focus on health. He appears in the cold open of Episode 4086 brushing his teeth, and in Episode 4089 buying fruit from Alan. In Episode 4201, Elmo and Abby Cadabby encounter Buster getting a horseshoe-shine.
Other performers
Notes
Filmography
Episodic appearances
Book appearances