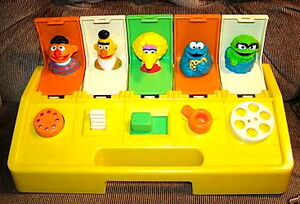 Busy Poppin' Pals is a toy created by Milton Bradley, under the Playskool label. A Sesame Street version was produced in 1980, as well as a version with Walt Disney characters.
The toy has five 5 pop-up doors, each featuring a Sesame character -- Ernie, Bert, Big Bird, Cookie Monster and Oscar the Grouch. When a switch is activated, the corresponding door is opened, revealing a character.
A later version of the toy replaced Oscar with Elmo, and featured rounder, more baby-like sculpts for the characters.
In 1995, rival toy maker Fisher-Price produced a similar toy, Pop-Up Pals. The Fisher-Price versions of the toy include voice chips, so that the characters talk and sing.
In 2000, Playskool (now part of Hasbro) issued a recall for the Sesame Busy Poppin' Pals toys, in response to reports that the toys' springs were breaking, posing a choking danger for children.
See also