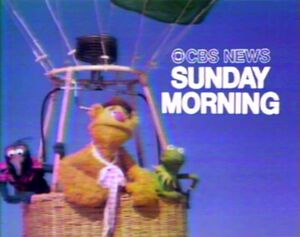 CBS Sunday Morning is a weekly news magazine program airing on CBS since 1979.
Features
1981
In 1981, Charles Kuralt visited the Muppets on location while filming The Great Muppet Caper and interviewed Jim Henson, Faz Fazakas, and Jane Henson, along with other Muppet Workshop employees on their experiences of working with the characters.
2009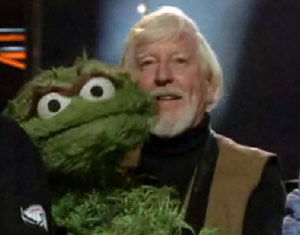 On August 2, 2009, the program featured a backstage report on Pete Seeger's 90th Birthday Celebration from Madison Square Garden, The Clearwater Concert: Creating the Next Generation of Environmental Leaders, which had aired a few days earlier as part of the Great Performances anthology on PBS.
In a brief backstage interview with celebrity guest Oscar the Grouch, he was asked by CBS News correspondent Anthony Mason whether he felt like he had to be there, to which the grouch responded "Oh, yeah, I had to be here. I wanted to wish him a rotten birthday!" Oscar went on to recount a few celebrities also attending, including "There are a lot of singers here... I've heard some... some guy named Springsteen".
The piece also featured a clip of Seeger performing on Sesame Street.
2019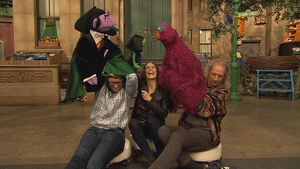 The February 3, 2019 broadcast features a segment on Sesame Street with Serena Altschul, featuring interviews with Dick Maitland, Jeffery Dunn, Grover and Elmo. Altschul also receives a puppetry lesson from Matt Vogel and Martin P. Robinson. Prior to the segment, Big Bird appeared in-studio with host Jane Pauley. (YouTube)
2021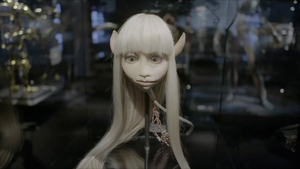 The September 19, 2021 broadcast reports on the forthcoming opening of the Academy Museum of Motion Pictures in Los Angeles, California, briefly highlighting a few of the more than 13 million objects from the Academy of Motion Picture Arts and Sciences' collection on display on opening day, September 30, 2021. The museum itself is devoted to the history, science, and cultural impact of the film industry, and although not mentioned in the report, a Kira head originally used in The Dark Crystal can very briefly be seen behind glass. (YouTube)
External links