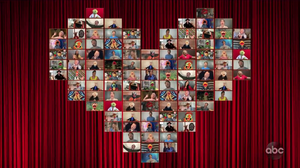 The COVID-19 pandemic, also known as the coronavirus pandemic, is an ongoing pandemic of coronavirus disease 2019 (COVID‑19). The World Health Organization declared the outbreak a Public Health Emergency of International Concern on January 30, 2020 and a pandemic on March 11th.
The pandemic has had a substantial impact on the film and television industry, particularly in the United States, mirroring its impacts across other sectors, shutting down or delaying production of television programs.
Canceled/Postponed Productions
As a result of the pandemic, production on Season 51 of Sesame Street was halted, having a week of "Cookie Monster's Foodie Truck" production left to go.[1] In addition, production on the Sesame Street feature film was suspended.[2]
The cruise ship show Jim Henson's Inspired Silliness was announced to be featured on the Enchanted Princess embarking in June 2020,[3] but the voyage was postponed to an undetermined date.
In response to COVID-19 concerns, the Puppets for Puppetry event honoring Brian and Wendy Froud (originally scheduled for May 8, 2020) was postponed.
Less than a month after the opening of the Regal Eagle Smokehouse at Epcot, Disney entered a multi-month closure of Walt Disney World and its other theme parks starting in March and continuing until July.
"At Home" Productions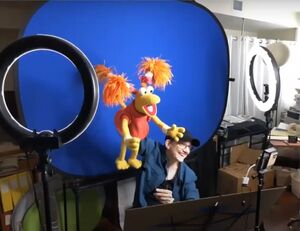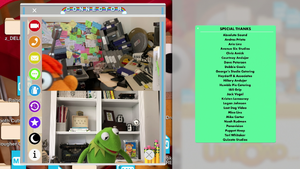 In late March, Sesame Workshop launched "Caring for Each Other," an initiative to help children and families cope with the social impact of the pandemic. The initiative included videos, coloring pages, eBooks, and information sheets. Many of the videos, featuring the Sesame Street Muppets, were filmed at the puppeteers' homes and focus on messages of social distancing, hygiene, routines, adjusting to the "new normal" and thanking health care workers and other "essential" personnel (such as truck drivers, grocery store workers and emergency services).
Sesame Street also produced a half-hour special, Elmo's Playdate, which dealt with the pandemic and socializing with others remotely. It premiered on April 14th, airing in simulcast across multiple WarnerMedia networks. Additionally, Sesame Street partnered with CNN to host The ABCs of COVID-19, a family-friendly special addressing questions about the virus (a second special on COVID-19 was planned but it was preempted and refocused on racism as Coming Together). Further specials focusing on COVID-19 aired on CNN on June 13 and December 19, 2020 and November 6, 2021 (The ABCs of COVID Vaccines). Further "at home" Sesame productions include Elmo's World News, Elmo's Playdate: Scavenger Hunt, and The Power of We.
The Jim Henson Company and Apple TV+ launched a spin-off of Fraggle Rock in April entitled Fraggle Rock: Rock On! The series of shorts were filmed entirely using iPhone smartphones[4] from the performers' homes and focuses on a message of the Fraggles staying connected even though they may be apart in separate caves.
During periods of social distancing and quarantining, many artists released "at home" performances of songs on social media to help raise spirits. Kermit the Frog released a "from home" performance of "Rainbow Connection" in April (YouTube). Additionally, Kermit the Frog and Miss Piggy appeared in a video for the song "Brave Little Spark," written and performed by the Walt Disney Imagineers from their homes during the pandemic.
Both the Sesame Street Muppets and the Disney Muppets have appeared in various "from home" television specials to build awareness or support during the pandemic, including: One World: Together at Home and The Disney Family Singalong: Volume II.
Grover and Cookie Monster appeared in #Graduation2020, a virtual graduation ceremony for the class of 2020 due to many in-person ceremonies being canceled. Bear of Bear in the Big Blue House also recorded a special TikTok message for the graduating class of 2020 who "knew it wouldn't be easy but didn't really expect this."(video) Additionally Miss Piggy and Gonzo delivered a graduation message to the class of 2020 as part of WE Celebrate: Class of 2020.[5]
During a May 18th appearance on The Late Show with Stephen Colbert (via video chat), Elmo talked about social distancing and said Oscar was enjoying the pandemic because "there's a lot to be grouchy about."
Cookie Monster was a presenter for the Daytime Emmy Awards, broadcast on CBS on June 26.
Framing segments for Muppets Now were filmed at the performers' homes during the lockdown, which is reflected by "Special Thanks" and "Very Special Thanks" cards during the show's end credits, acknowledging family members' help in puppetry and other fields of production, reading "To those who graciously stayed quiet, lending us their homes, offices, bedrooms, toys, possessions, and support."
Returning to the studio
Eventually, safety guidelines were established by actor and production guilds to allow for in-studio shoots to resume. These protocols include testing of the actors multiple times per week, restricted number of individuals on set, and required mask wearing (except for onscreen actors in an effort to record quality audio).[6]
Following an open-air shoot in the summer, Sesame Street returned to Kaufman Astoria Studios in September 2020 to tape the remaining "Cookie Monster's Foodie Truck" segments previously delayed by the start of the pandemic[7] before returning for full production of Season 52 in October 2020.[8]
Muppets Haunted Mansion, The Not-Too-Late Show with Elmo, and Fraggle Rock: Back to the Rock were produced under these conditions as well.
Live Stream Events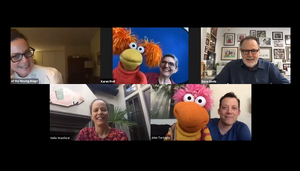 Online programming, public video chats, group panel discussions, table reads, and live-streams became popular as in-person events were canceled and people were confined to their homes.
Dave Goelz participated in a Q&A hosted by the Walt Disney Family Museum website on April 17th and Bonnie Erickson appeared in a similar Q&A on June 5th.
A discussion about the making of The Muppets Take Manhattan with Frank Oz and Goelz was hosted by the Museum of the Moving Image on April 18. While the museum was closed due to the pandemic, the Museum of the Moving Image continued to host a weekly series of live streams as part of their remote programming entitled "Jim Henson's World: Conversations." These events included such guests as Karen Falk, Bonnie Erickson, Caroly Wilcox, Rollie Krewson, Craig Shemin, Stephanie D'Abruzzo, Bill Barretta, Karen Prell, John Tartaglia, Brian Froud, Lisa Henson, and others.
The cast of Muppet Guys Talking (Frank Oz, Fran Brill, Dave Goelz, and Bill Barretta) reunited in a video conference event on May 16th to talk about Jim Henson and his work, and to raise money with a fundraiser "to help those who are on the front lines battling COVID-19."
Muppet fansite Tough Pigs hosted a series of live-streams, entitled "The Cabin Fever Interviews," with various Muppet personnel and celebrities - including Brian Jay Jones, Hornswoggle, Katie Cook, Craig Shemin, Griffin Newman, and Chris Cerf. The Muppet Mindset also hosted live steams with Peter Linz, Matt Danner, and others.
Live Streams
April 17, 2020 ― Walt Disney Family Museum: Happily Ever After Hours Q&A with Dave Goelz[9]
April 25, 2020 ― MoMI Preserving Jim Henson's Legacy: Perspectives on Four Collections with Karen Falk, Barbara Miller, Jill Nash Malool, and Ryan Lintelman (YouTube)
June 14, 2020 ― Dinosaurs 30th Anniversary Reunion Show on The Barretta Brothers Vodcast with Bill Barretta, Gene Barretta, Brian Henson, Alex Rockwell, Kirk Thatcher, Michael Jacobs, Bob Young, Peter Brooke, Ritamarie Peruggi, Niki Lyons, Tim Doyle, Victor Fresco, Rob Ulin, Rich Tabach, Kevin Clash, Kim Rozenfeld (associate producer), Stuart Pankin, Allan Trautman, Bruce Lanoil, Julianne Buescher, John Kennedy, Michelan Sisti, Pons Maar, Leif Tilden, Jack Tate, Rickey Boyd, Terri Hardin, Tom Fisher, Jill Thraves, Marian Keating, Lisa Rocco (animatronics/puppets), Day Murch (costume department), Laura Baker (animatronics/puppets), Julie Zobel, Peter Abrahamson, Tom Trbovich, Bruce Bilson, Joe Moore (first AD), Kevin Haggerty (first assistant camera), and Ronnie Chong (second AD).; plus behind the scenes footage and photos (YouTube)
June 22, 2020 — Leslie Carrara-Rudolph on Caruso's Pajama Party (YouTube)
International Live Stream Events
June 20: Elmo and Cookie Monster appeared on a Facebook Live session for parents about their child's education during the pandemic.[13]
Products
Sources
See also
External links