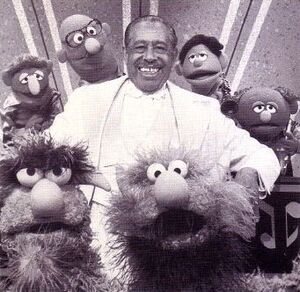 Cab Calloway (1907-1994) was a jazz bandleader and singer. He was best-known for the song "Minnie the Moocher," with its distinctive "hi-de-hi-de-hi" scat chorus. His exuberant strutting and scatting was utilized in several of Max Fleischer's Betty Boop cartoons, often titled for Calloway's songs, such as "The Old Man of the Mountain". He enjoyed a career resurgence in 1980, thanks to a key supporting role as janitor Curtis in The Blues Brothers, where he reprised "Minnie the Moocher."
Appearances
In 1981, Calloway appeared in several Sesame Street clips that debuted in Season 12:
References
Several animated segments on Sesame Street feature a bandleader called Cab Callowmouse.
External links
Community content is available under
CC-BY-SA
unless otherwise noted.