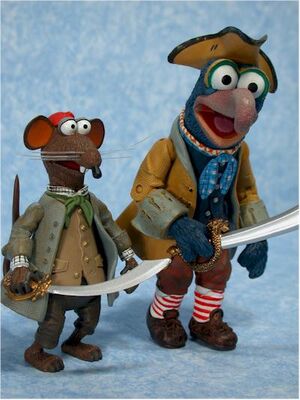 Released: Spring 2004
Articulation: Neck, ball joint shoulders, biceps, elbows, wrists, waist, hips, knees (Gonzo); neck, ball joint shoulders, wrists, waist, hips (Rizzo)
Accessories: Two hats, two swords
Gonzo and Rizzo as cabin boys were the last action figures by Palisades Toys in the line of Muppet Treasure Island figures. They were exclusively sold at the Wizard World Los Angeles convention and through the Palisades Collectors Club.
The figures are updated versions of the Gonzo Action Figure and the Rizzo Action Figure, wearing the pirate outfits from the movie. They can hold the swords in their hands. Gonzo's tuft of hair can be removed in order to put his hat on.
Previously released Treasure Island figures were the Sam Arrow Action Figure, the Captain Smollett Action Figure with Polly packin, and the Ghost of Sam Arrow Action Figure.
External links