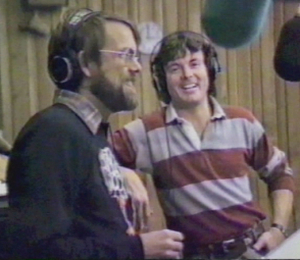 Cal Dodd, birth name Cathal J. Dodd, is a Canadian singer and voice actor. Dodd occasionally provided character vocals on Fraggle Rock, including one of the Doozers singing "Rev" in the second season episode "Doozer Is as Doozer Does."
Dodd can be seen at the recording session for the episode, in home movie footage taken by Steve Whitmire and included in the Fraggle Rock: Complete Second Season DVD extras. Whitmire recalled the singer's contributions: "We had Cal there, who was one of our singers who would come in and sing with us. Wasn't a puppeteer... [with] this incredible baritone bass voice."
A noted commercial jingle singer, Dodd appeared on-camera as the host of the CTV variety series Circus from 1978 until 1983, and hosted the Miss Teen Canada pageant. An active voice-actor, he's been heard in many series and video games recorded in Toronto, perhaps most notably as the voice of the Marvel Comics hero Wolverine in the animated X-Men series (1992-1997), a guest spot on Spider-Man, and in several Capcom video games. Other voice credits include Slappy the dummy in several Goosebumps episodes and parts in the Nelvana series Bob and Margaret, Little Bear, and Rescue Heroes.
External links
Community content is available under
CC-BY-SA
unless otherwise noted.