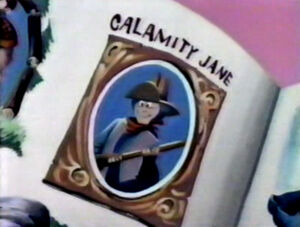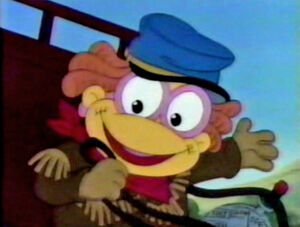 Martha Jane Cannary, better known as Calamity Jane (1852-1903), was an American pioneer and professional scout known for her heroic deeds and hard living. She performed in Wild West shows, wrote an autobiography, and became the subject of western dime novels. Some of her feats include rescuing a runaway stagecoach from a Cheyenne Indian war party, and helping to nurse patients during a smallpox epidemic in Deadwood, South Dakota. She's often noted for not dressing like a typical woman of the era, heavy drinking, and for being an excellent sharpshooter.
She has been played on screen by the likes of Jean Arthur, Jane Russell, Doris Day, Jane Alexander, Catherine O'Hara, Ellen Barkin, Anjelica Huston, and many others.
References
In the Muppet Babies episode "Buckskin Babies", the babies learn about several historical and fictionalized characters from Nanny's book of folk heroes. Skeeter becomes enamored with Calamity Jane (whom Nanny describes as "the famous stagecoach driver"), and plays "Calamity Skeet" in the babies' following fantasy sequence. After she runs over Baby Rowlf (as Jimmy Applecore), she offers him a ride on her stagecoach, and introduces herself as the "wildest woman in the west". Making her way through the story to the music of The Magnificent Seven, she later engages Baby Piggy (as Piggy Bunyan) in an exchange of name-calling.
In 1981, a line of apparel from the "Billy the Kid" clothing company, featured the Muppets on shirts for girls under their "Calamity Jane" imprint. One western-styled shirt featured a pattern of Miss Piggy as Calamity Jane herself.
External links
Community content is available under
CC-BY-SA
unless otherwise noted.