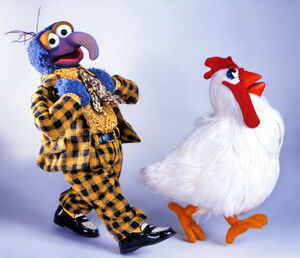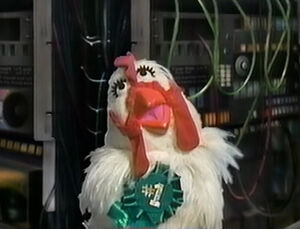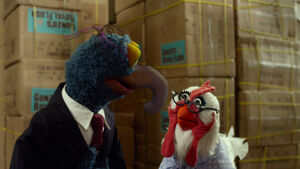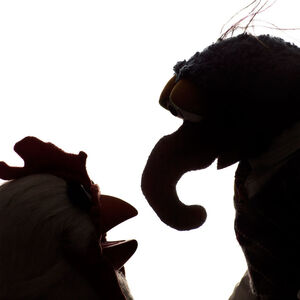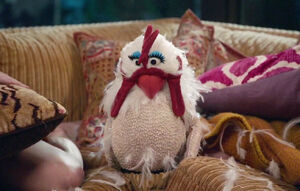 Camilla the Chicken is the love of Gonzo's life. Her proper introduction on The Muppet Show is in episode 318 when she and Gonzo have their first date, and it leads to trouble. She was previously seen and mentioned by name in episode 305 during the jousting scene, and in episode 309 when Gonzo attempted to audition her and another chicken named Nellie for Liberace's concert (he eventually agrees to sign them on for his Las Vegas act).
As Miss Piggy started out as one of a number of pigs, and Rizzo as one of many rats, Camilla evolved out of a group of chickens used on The Muppet Show as background Muppets. Before being named in episode 309, a precursor to Camilla appeared in episode 303 replacing Gonzo in the Pigs in Space sketch, and as Gonzo's dancing partner in episode 305 (played by Dave Goelz). Even as far back as episode 217, Gonzo finds love with a chicken when he sings "Won't Somebody Dance with Me" at the dance.
Gonzo loves Camilla, but sometimes he chases after other chickens, because he's not always sure which chicken is which. After all, "they all look the same." Whenever a scene with Camilla was shot, nobody could remember what color Camilla's eyes were, so Dave Goelz and Jim Henson devised a theory that Gonzo could not tell the chickens apart, and Gonzo would just assume that whatever chicken was with him was Camilla.[1]
The Muppet Movie marked Camilla's big screen debut, introduced as Gonzo's companion in his plumbing business. In The Muppets Take Manhattan, she's briefly taken hostage by Martin Price, an incident that requires Gonzo to giver her mouth-to-beak resuscitation. Performing in The Muppet Telethon in The Muppets, Camilla leads a group of chickens in singing "Forget You". After Constantine (pretending to be Kermit the Frog) proposes to Miss Piggy in Muppets Most Wanted, Camilla asks Gonzo when they'll get married. Gonzo tells her, when he's a millionaire (again).
Camilla lives alone in a gazebo-like house called "Camilla's Place", where she sits on a nest in the middle of an otherwise empty floor. However, she appears to spend a good deal of time at the Bide-A-Wee Trailer Court.
On Muppet Babies, Camilla is a rag doll that sometimes comes to life in Baby Gonzo's imagination. In the 2018 reboot of the series, Camilla appears as an actual chick, accompaned by fellow hens Priscilla and Beep.
Merchandise of Camilla includes an action figure packed with Palisades' Series 5 Gonzo, a Mega Camilla Action Figure, a plush doll by Sababa, and a statue designed by Jim Shore.
Casting History
Main Performers
Alternate Performers
Filmography
Book appearances
Sources