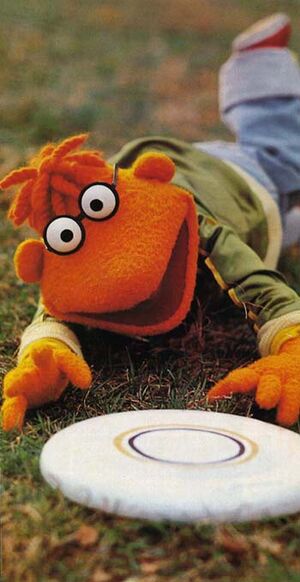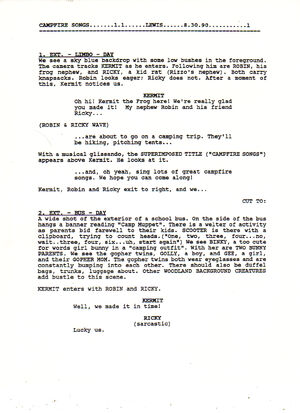 Campfire Songs was a script for an unrealized Muppet home video by The Jim Henson Company. The first draft was written by Jim Lewis in August 1990.
The plot centers around camp counselor Scooter taking a group of woodland animals on a bus to go camping. Characters include Robin the Frog; Ricky the Rat, Rizzo's nephew; Golly and Gee the gopher twins; and Binky, a very cute girl bunny who loves to sing. Kermit would have appeared at the beginning of the program helping Robin onto the bus and waving goodbye.
The campers sing songs as they travel:
If You're Happy and You Know It (on the bus)
The Happy Wanderer (wandering through the forest)
Itchy Flea (setting up tents, with mosquitos around)
On Top of Spaghetti (around the campfire, after dinner)
Old Hogan's Goat (Golly and Gee want to sing a two part-song)
Home On The Range (Scooter brings his horse friend, Hoss, to join in)
Riders in the Sky (as the evening gets darker)
Are You Sleeping (as the campers settle down to sleep)
The campers arrive home the next day and are greeted by a sign reading "Welcome Home Camp Muppet Campers!" All of the campers' parents are waiting to greet them as they get off of the bus. They all sing a reprise of "If You're Happy and You Know It" as the credits roll.
Characters
Ricky the Rat - Rizzo's nephew, who thinks camping is "stoo-pid!"
Golly and Gee- eyeglass wearing gopher twins who are always bumping into each other
Binky- "a too cute for words girl bunny in a camping outfit."
Hoss the Horse- Scooter's friend. "Hoss speaks like Chill Wills, Slim Pickens or Fred Allen's senator Klaghorn (sic)."
Bunny Parents- Binky's parents
Gopher Mom- Golly and Gee's Mom