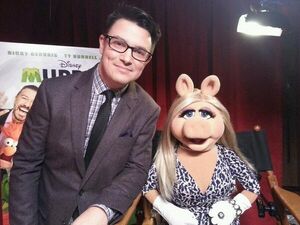 The national public television and radio broadcaster in Canada, the Canadian Broadcasting Corporation (CBC) produced Sesame Park, a Sesame Street co-production.
The network was the first to air the special Emmet Otter's Jug-Band Christmas in 1977 (before later airings on HBO and ABC), and it was also a first-run broadcaster of Fraggle Rock. The Muppet Show, Muppets Tonight and many other productions had also originally aired in Canada on this network.
Their production studios CBC Studios and later the Canadian Broadcasting Centre, were host to Fraggle Rock (1983-1987) and Basil Hears a Noise (1990), as well as Sesame Park (1996-2002).
The Muppets have been guests on CBC programs like Midday, The Hour, Q with Jian Ghomeshi, and As It Happens.
The Sesame Park characters have appeared in general CBC station promotions. (YouTube)
On March 18, 2014, CBC News reporter Eli Glasner interviewed Miss Piggy about Muppets Most Wanted.[1]
The French-language network owned by the CBC, Radio-Canada, aired Bonjour Sesame.
Sources