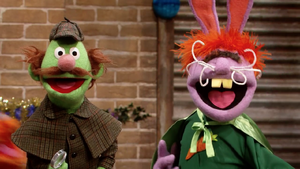 Captain Vegetable is a superhero on Sesame Street who encourages kids to eat vegetables. He looks like a rabbit with a cape and always carries a carrot and a stalk of celery. His home base is a secret garden somewhere in New Jersey.
He debuted on Sesame Street during season 14 in the eponymous song "Captain Vegetable," where he was performed by Jim Henson. His converts included Andy and Eddie.
The Captain popped up a few times later on throughout season 15, performed by Richard Hunt, including Episode 1852 where he helps David get a snack, several scenes in episodes 1858 and 1931, and Episode 1950 where Big Bird sings "Everyone Makes Mistakes" to him.
Captain Vegetable is made from two different Anything Muppets: the Lavender (for Jim Henson's portrayal) and the Large Lavender Live Hand (for Richard Hunt's portrayal).
John Leguizamo portrayed Captain Vegetable in Episode 4013 as a super vegetable hero. Garbed in a veggie-themed outfit, he sang the same tune as his predecessor. Accompanied by Elmo, Captain Vegetable stages an intervention for candy addict Sandy.
The live-hand variation of the character resurfaced many years later in Sesame Street's 50th Anniversary Celebration in 2019, performed now by Peter Linz. After Captain Vegetable is inspected by Sherlock Hemlock, Rudy fawns over his favorite hero, who offers the young monster some celery. He also appears in The Not-Too-Late Show with Elmo as an audience member.
Other Versions
Book appearances