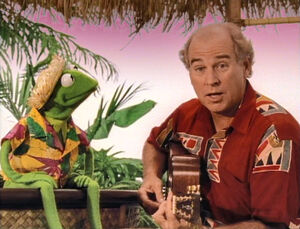 "Caribbean Amphibian" is a Sesame Street song sung by Kermit the Frog. He wore a Hawaiian shirt and sunglasses, and sat on a small island surrounded by water. The song is about his cousin, who sometimes lives on the water and sometimes on the land. Kermit was backed by a small frog (performed by Kevin Clash), a turtle, and an Anything Muppet calypso band.
Kermit later sang this song with Jimmy Buffett in the TV special Elmopalooza, intertwined with animated sequences by Sally Cruikshank.
The 1999 Magic Talking Kermit the Frog plush doll sang "Caribbean Amphibian."
Notes
Releases
Audio (original version)
Audio (Jimmy Buffet version)
Video (original version)
Video (Jimmy Buffet version)
Other (original version)
Book
Sources
See also