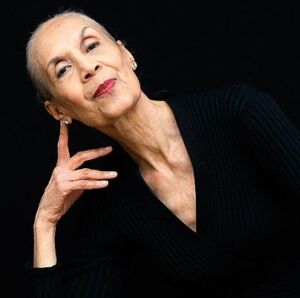 Carmen de Lavallade (b. 1931) is a dancer, actress, and choreographer who appeared in Episode 1405 of Sesame Street in 1980, as a ballet teacher.
De Lavallade performed on stage (including the Broadway musicals House of Flowers and Hot Spat) and danced in films such as Carmen Jones (and had a dramatic role in the Harry Belafonte movie Odds for Tomorrow). She was married to Geoffrey Holder and the pair often worked together (including with Josephine Baker for her 1964 Broadway revue). She was principal dancer with the Metropolitan Opera and later choreographed (including a 2001 production of Wagner's Die Meistersinger).
In later years, de Lavallade appeared as a character actress in films like Lone Star (with Chris Cooper), Big Daddy (with Adam Sandler) and The Hours. She choreographed voodoo dances for the 1988 film The Serpent and the Rainbow. Roles in straight plays include the 2012 Broadway revival of A Streetcar Named Desire and off-Broadway productions of Othello and Three Sisters. She appeared on TV in an episode of The Cosby Show and on the soap opera Search for Tomorrow, as well as voice work for the "Street Frogs" portion of the Rankin/Bass package cartoon series The Comic Strip.
In 2017, de Lavallade was a recipient of the Kennedy Center Honors.
External links
Community content is available under
CC-BY-SA
unless otherwise noted.