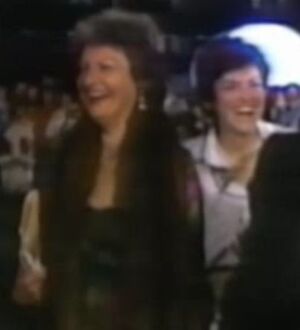 Carol Arthur (b. 1935) is an actress who was married to Dom DeLuise. She made a cameo in the special The Muppets Go Hollywood, arriving in the same car as her husband, Carl Reiner, Mel Brooks, and their spouses.
Arthur co-starred with her husband on The Dom DeLuise Show (1968). She had small roles in several Mel Brooks films, notably as townswoman Harriett Johnson in Blazing Saddles, as well as Silent Movie, Robin Hood: Men in Tights, and Dracula: Dead and Loving It. She also appeared with Dom DeLuise in The World's Greatest Lover (with Gene Wilder) and Hot Stuff (as the wife of DeLuise's character). On her own, she played the daughter of George Burns in The Sunshine Boys.
On Broadway, Arthur played the second female lead in the 1964 musical version of High Spirits (with Edward Woodward) and later performed as in Woman of the Year (with Lauren Bacall) and the 1980 revival of The Music Man.
External links