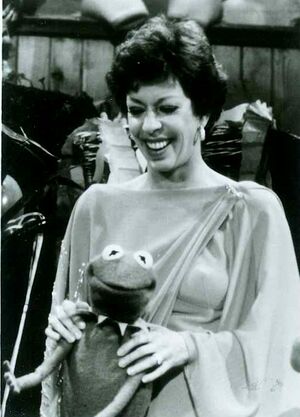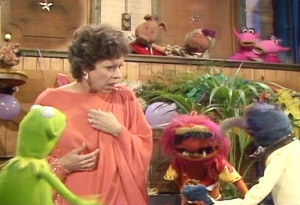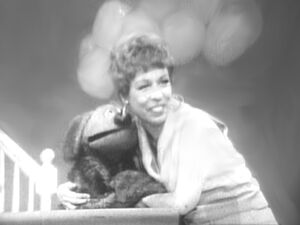 Carol Burnett (b. 1933) is a comedienne, actress and singer. Hosted The Carol Burnett Show from 1967 to 1978 (Harvey Korman and Tim Conway were co-stars). Inducted into the Academy of Television Arts & Sciences Hall of Fame in 1985. Voice credits include Dr. Seuss' Horton Hears a Who! and the American release of The Secret World of Arrietty from Disney and Studio Ghibli.
1967: Appeared alongside Rowlf in summer replacement series Our Place on CBS.
1969: Appeared in a brief insert in the first episode of Sesame Street. This made Burnett the first celebrity guest to appear on a Sesame Street telecast (James Earl Jones recorded several segments that were used in pre-broadcast test versions of the show, but these segments were not actually telecast nationally until after Burnett's appearance). Another brief insert aired in episode 0057.
1970: More inserts in episode 0131 and episode 0132.
According to the booklet included with the Old School: Volume 1 DVD release in 2006, Burnett taped her inserts in Hollywood where she was filming The Carol Burnett Show at the time.
1974: Appeared in the ABC primetime special Out to Lunch with the Sesame Street cast.
1980: Guest star on The Muppet Show episode 515.
1990: Cameo appearance in TV special The Muppets Celebrate Jim Henson.
She is good friends with Julie Andrews, another Muppet Show guest, and referenced her during her appearance.
Sesame Street Inserts
After watching Wanda the Witch, she comments that "Wow! Wanda the Witch is weird!"
Carol makes a comment after a "rocket countdown" cartoon.
This segment appears in the first Sesame Street test show.
Carol talks to the viewers about what a nose can do.
Carol counts to 20.
Carol talks about her rubber duckie.
External links