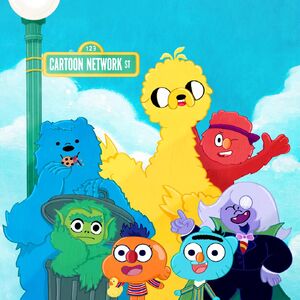 Cartoon Network is a cable channel owned by Turner Broadcasting System showcasing cartoons, originally primarily from Warner Bros. and Hanna-Barbera. The channel also created spin off channels Boomerang and Cartoonito.
The network allied with Children's Television Workshop to produce Big Bag, a combination of Muppet segments and animation that aired from 1996 to 1998. Cartoon Network India co-funded and aired Galli Galli Sim Sim, an Indian co-production of Sesame Street.
A proposed animated series based on The Dark Crystal was planned in the mid-2000s for the network's former "Toonami" programming block, but was ultimately abandoned. A series of shorts produced by The Jim Henson Company, Hotdog TV, briefly aired on the channel in the summer of 2010.
Muppet Mentions
On November 10, 2018, the anniversary of Sesame Street's premiere, Cartoon Network social media posted an illustration of characters from several of the channel's shows as Muppets gathered around a lamppost mimicking the Sesame Street sign. These include Jake the Dog (from Adventure Time) as Big Bird, K.O. (OK K.O.!) as Elmo, Amethyst (Steven Universe) as The Count, Gumball and Darwin (The Amazing World of Gumball) as Bert and Ernie, Beast Boy (Teen Titans Go!) as Oscar, and Ice Bear (We Bare Bears) as Cookie Monster.
External links