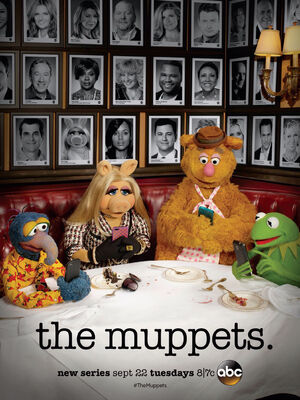 Castle is a detective series, often emphasizing humor, which ran on ABC from 2009 to 2016, starring Nathan Fillion as mystery author Richard Castle, who shadows a homicide detective for research and often assists in solving cases.
During ABC's promotional campaign for The Muppets, stars of other ABC shows interacted with the Muppets (sometimes alluding to or naming their other shows). Nathan Fillion appeared in three spots, following a romantic arc with Miss Piggy, but no mention of Castle. However, two print ads depicting the Muppets dining surrounded by promotional headshots of ABC stars featured Fillion's network promotional headshot and listed Castle beneath.
Muppet Mentions
In the first season episode "Home Is Where The Heart Stops," Richard Castle refers to the main suspect in a murder case as a "perp." Two assisting detectives ask why writers always call them that, and offer a list of other names real cops call them. Among them are several pop culture references including Destro (from G.I. Joe), Sleestaks (from The Land of the Lost) and Skeksis.
In the fifth season episode "Under the Influence," Castle hypothesizes a number of situations by which someone might have acquired the nickname "Monster." When he sees it's just a kid, he remarks, "More like Cookie Monster."
Connections
Community content is available under
CC-BY-SA
unless otherwise noted.