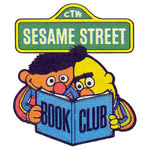 A series of Sesame Street books offered by subscription through the mail. Originally released by Golden Press, many of the Book Club series were reissued by Reader's Digest with slightly modified covers.
Many of these books were translated in Dutch and released in the Netherlands in 1986 under the series name Sesamstraat Kijk-, Lees- & Doe-Club ("Sesame Street Look, Read and Do Club").
They were also translated into French and released in Canada in the mid-1980s, under the series name "Club du livre Rue Sésame".
See also Sesame Street Books
Trending pages
All items (62)