A View-Master is a hand-held toy used to view three-dimensional images from a series of slides on a paper disc. View-Master was first introduced at the New York World's Fair of 1939, originally intended as an alternative to the scenic postcard. In the late 1960s, the company phased out scenic views and featured more child-friendly subjects, such as toys and cartoons. The company has changed hands a number of times, passing from Sawyer's, Inc., to General Aniline & Film (GAF), then becoming an independent company, View-Master International Group. View-Master was purchased by Tyco Toys in 1989, which then merged with Mattel in 1997. View-Master is now marketed as a Fisher-Price product.
In 1991, the company produced a View-Master viewer in the design of Big Bird wearing heart-shaped glasses.
Over the years, there have been many View-Master sets produced with Muppet and Henson characters:

References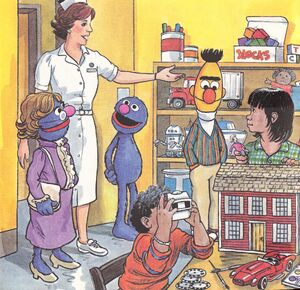 Trivia
The company filed a patent (4884974) in 1987 for an "Interactive talking book and audio player assembly", using a story with Big Bird and Granny Bird as example subjects.[1]
Sources
↑ Google Patents: "Interactive talking book and audio player assembly", Eric DeSmet, Patent number: 4884974
External Links
Trending pages
All items (18)
Community content is available under
CC-BY-SA
unless otherwise noted.