ATTENTION
TALK PAGES ARE NO LONGER USED
To discuss article changes, please use:
If you see comments on this page, they remain for archive purposes.
NEWLY ADDED COMMENTS WILL BE REMOVED
Limbo
A good while back now, several sketch pages were moved to Limbo, using the production term for the blank spaces, with or without walls, used in Muppet sketches and occasional cast inserts. The term was dropped, since it seemed vague and might provoke confusion with Limbo (which also seems sketchy right now), and the pages renamed. I agree with that, but with the latest visit to the archive, Danny and I found a massive set floorplan for the street, including the puppet backdrops like Ernie and Bert's Apartment and, as shown above, the "Limbo Wall." In light of that, without departing from the past consensus to avoid the term in grouping sketches, I think this could make for a worthwhile location article (or else behind the scenes, the floorplan even gives its precise location on the set), to put the info and sourced stuff we had about it, with at least some potential for discussing the use of the wall, its iconicity (used in later Sesame spoofs), and so on. Thoughts? -- Andrew Leal (talk) 01:33, 18 June 2007 (UTC)
Where is this?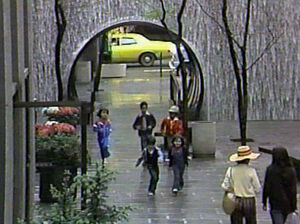 I took this screenshot some years ago from a Sesame Street opening title sequence (from which season I have no idea now). I think it's a really interesting location -- you don't often see a man-made waterfall built quite like that (or ever). I'd always assumed that it was in New York City, but considering the Albert Einstein statue, that may not be the case. I realize that if we ever figure out where it is, that it would more likely belong in Category:Real World Locations, but I thought the question was appropriate here. —Scott (talk) 04:09, 22 March 2007 (UTC)
Community content is available under
CC-BY-SA
unless otherwise noted.