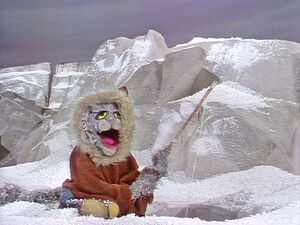 Catgut is the blues-singing, trumpet-playing cat from The Muppet Musicians of Bremen. Formerly owned by Caleb Siles, Catgut was thrown out for befriending the rats. After laying down in a graveyard to die in melodramatic fashion, she was found by Leroy, Rover Joe, and T.R., who asked her to join them. Catgut possesses a husky singing voice, reminiscent of Carol Channing's. She is the only one of the four-legged animals in the group to walk on her hind legs, leading the little band on her trumpet.
Catgut later appeared as a background player in several episodes of The Muppet Show, as well as The Muppet Show: Sex and Violence and The Muppet Movie. In episode 405, Catgut does a walk-on during the "Rock Around the Clock" number, startling the rats who are singing it. True to character, she merely yawns and walks off, leaving the rats to finish the song. In a North Pole-themed number in episode 501, "Jambalaya", Catgut fishes through the ice and catches a crocodile.
In later years, she made cameo appearances alongside her Muppet Musicians bandmates in the first issue of Muppet King Arthur and The Muppet Christmas Carol: The Illustrated Holiday Classic.
Catgut is one of the puppets on display at the Center for Puppetry Arts's permanent World of Puppetry exhibition.
Filmography
Book appearances