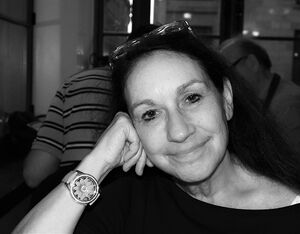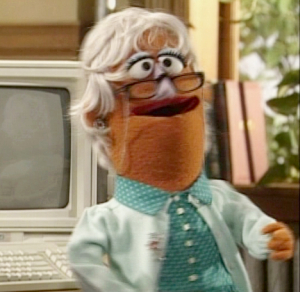 Cathi Rosenberg-Turow is a writer who has worked with Sesame Street and the Muppets beginning in the 1970s.
She served as a production assistant on Sesame Street in Season 10 and the 1978 special Christmas Eve on Sesame Street, and then later became a writer on the show from 1984 until 2002, winning a total of 14 Emmy Awards during that time. She also composed the lyrics for many Sesame Street songs, including "Cereal Girl", "Best Friend Blues", "Counting on the Weather", and "Everything in the Wrong Place Ball", and wrote the storybooks Big Bird's Day on the Farm and Big Bird Joins the Carnival in 1985, both based on Follow That Bird.
On Muppet Magazine, she wrote articles from the Muppets' perspectives, including Gonzo's interviews with Ethan Hawke and the Cosby Kids in the Fall 1985 and Winter 1986 issues, respectively.
Outside of the Muppets, she was the creator and lyricist for the Chanukah specials Chanukah on Planet Matzah Ball (2003) and The Seder on Planet Matzah Ball (2004); which featured the involvement of many Sesame and Muppet alumni.

Sesame Street episodes
Sesame Street episodes written by Cathi Rosenberg-Turow include:[1]
Songs
Sources
External links