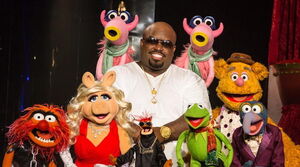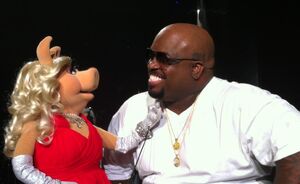 Cee Lo Green (b. 1974, real name Thomas Calloway) is a singer, songwriter, record producer and actor. He is a member of the groups Goodie MOb and Gnarls Barkley, and was an original judge on the NBC game show The Voice.
The Muppets are featured on his Christmas album, Cee Lo's Magic Moment, performing the original song "All I Need is Love" with Green. They also performed the song with Green at his Las Vegas show on October 10, 2012. The performance aired as part of a TV special (also titled Cee Lo's Magic Moment), and a music video of the song featuring Green and the Muppets debuted online in November. In the video, Green briefly gave singing voice to his own caricature Muppet, Lo-Co.
The Muppets also appeared with Green on The Voice in November 2012; during the appearance, Green and Kermit performed "Bein' Green."
His song, "Fuck You!" (co-written by Bruno Mars), was performed by Camilla and the chickens in The Muppets.
An Anything Muppet caricature of Green appeared in Sesame Street's parody of The Voice in a season 43 episode.