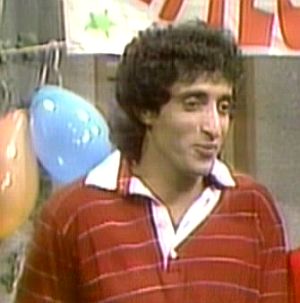 Chaim Jeraffi (also credited variously as Chaim Girafi, Haim Gerafi, and others) is an Israeli actor who played Chaim on Rechov Sumsum in the 1980s. He also appeared in the first set of Shalom Sesame episodes.
Initially active in Israeli film and television, Jeraffi has appeared primarily in American projects from the 1990s onward, playing Arabs, Israelis, Turks, and other generic Middle Eastern types. Notably, he was in two episodes of Seinfeld, as the shady owner of the Jiffy Park parking lot in "The Wig Master" and the Jiffy Dump trash depository in "The Muffin Tops." Other guest stints include Murder, She Wrote, Quantum Leap, and CSI: Miami. Films include Waterworld (as a drifter) and Just Like Heaven.
External links
Community content is available under
CC-BY-SA
unless otherwise noted.