Ever since the Muppet characters have been used for merchandising, as a result of a production not initially meant to sell a product, The Jim Henson Company and Children's Television Workshop have made Character Books available to developers to ensure that character consistency is maintained when reproducing outside of the respective companies. These style guides serve to establish a definitive manner in which characters will be drawn or scuplted. Most notably, guidelines are given to ensure proper proportions and colors. In some cases, the Pantone scale is used to reference a particular color -- an agreed upon system of coloring defined by numbers.
Sesame Street
1973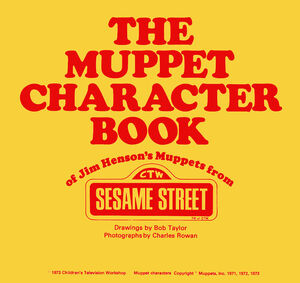 All character pages are a combination of black and white photographs and pencil drawings.
1979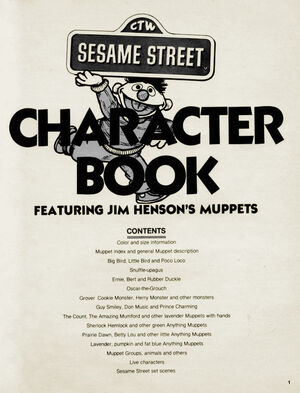 Photos and drawings by Mel Crawford, Michael Frith, Bill Pierce, Joe Mathieu, Judy Ross, Chuck Rowan, Neil Selkirk, Joe Veno and Rick Wetzel
Art Director/Designer: Sue Schiller
Produced by The Children's Television Workshop, NY, NY. 80 pages.
Introductory Material
Color photograph of the Sesame Street cast, Season 8
Size comparison chart, in color, with photos of various Muppets for which the lower bodies have been draw in in color (except for Big Bird, whose entire body is shown as a color photograph)
Color guide
General Muppet description and Muppet index
Credits
Character pages
Unless otherwise noted, all character pages contain a combination of black-and-white photographs and drawings in black ink.
Sesame Street Set Scenes
1988
2000 (Architecture Guide)
2001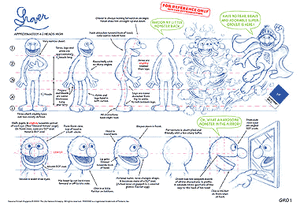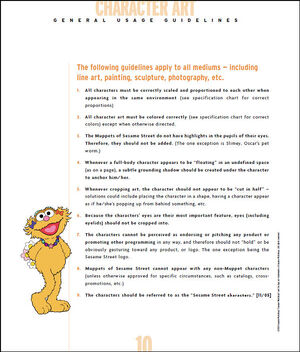 Sesame Workshop produced the Sesame Street Muppets Drawing Guide, Illustrated by Nancy W. Stevenson. The 2001 Drawing Guide contains mostly pencil drawings, which show much greater detail than the previous Character Books and include guidance for depicting Sesame Street Muppets in various positions and from multiple angles.
The Guide consists of a cover page, table of contents, 4 introductory pages, and 12 character pages featuring extensive pencil drawings. The character pages cover 10 Muppets:
Bert
Big Bird
Cookie Monster (2 pages)
Count Von Count
Elmo
Ernie (including one drawing of Rubber Duckie)
Grover & Super Grover
Oscar the Grouch (2 pages, which include several drawings of Slimey)
Rosita
Zoe
Excerpts from the Drawing Guide appear in the liner notes for the 40 Years of Sunny Days DVD set.
Also in 2001, Sesame Workshop produced a separate Sesame Street Style Guide that provides information such as guidelines for representing the Sesame Street Muppets and preferred fonts for use in advertising typography.
Sesame Street Babies
Style guide issued for the Sesame Street Babies brand.
Other Sesame Street Style Guides
The Muppets
Guides created for the Muppet characters have included photo packages and drawn illustration books. Each of the versions have featured various angles of the puppet and character positions.
1976 Photographs
1979
1989 (Muppet Kids)
1993? (Jim Henson's Muppets)
2002
2005
Other
Other
Guides were created for other Henson/Muppet Television shows.