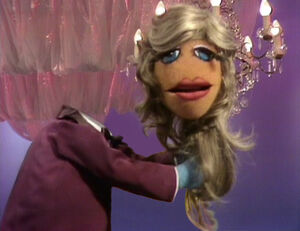 List of characters who have had body parts removed in unusual ways.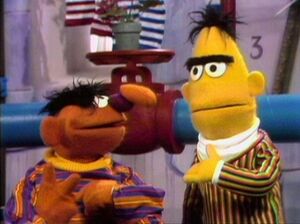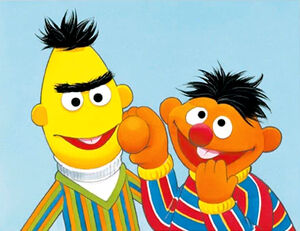 Sesame Street
The Muppet Show
Episode 102: Connie Stevens: Ernie briefly pulled Bert's nose off.
The Muppets: A Celebration of 30 Years
Ernie again briefly pulled Bert's nose off.
Ernie pulls off Bert's nose on the cover of this 1987 play book.
Don't Forget to Watch the Movie
And again, Ernie pulled the old nose trick on Bert.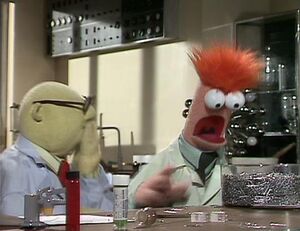 The Muppet Show
Episode 212: Bernadette Peters: Beaker briefly pulled his hair off and put it back on.
Episode 217: Julie Andrews: Beaker's hair blasted off after using hair tonic.
Episode 305: Pearl Bailey: His nose fell off after eating edible paper clips.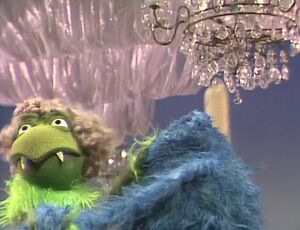 The Muppet Show
Sesame Street
On the blooper reel screened at the Sesame Street Puppets Live event, Cookie Monster ends up eating his left eye pupil when eating the book.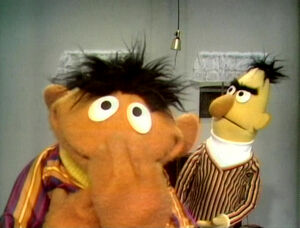 Sesame Street
In one sketch, in which Ernie demonstrates "near" and "far", Ernie's nose comes off. (First: Episode 0005)
The Muppet Show
Episode 120: Valerie Harper: His head explodes at the beginning of the show.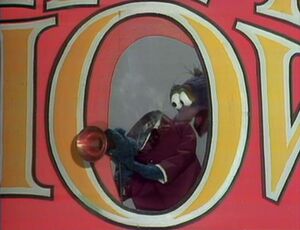 The Muppet Show
Episode 401: John Denver: In the opening sequence, Gonzo blows his trumpet and his head explodes; it then pops up in another angle of the Muppet Show's "O". The gag is repeated on the opening for episode 502.
Disneyland's 35th Anniversary Celebration
Gonzo's nose explodes (much to his own enjoyment).
The Muppets' Wizard of Oz
The Flying Monkeys cause a system overload in Tin Thing Gonzo, causing his head to blow off.
The Muppets' Wizard of Oz
The Flying Monkeys rip Scarecrow Kermit's arms off, take out all his stuffing and remove his head.
The Wizard of Oz takes Scarecrow Kermit's head off in order to pour his brains in.
The Muppet Show
Episode 310: Marisa Berenson: His hair jumps off his head.
The Muppet Show
Episode 103: Joel Grey: The Green Frackle pulls her nose off after it's stuck on him. This was the only time she had a nose.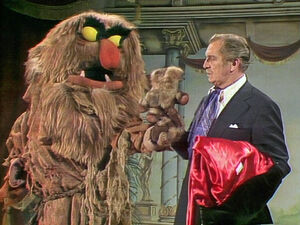 The Muppet Show
Episode 119: Vincent Price: He pulled his hand off after offering to give Vincent Price a hand.
Other Characters
The Muppet Show
Muppets Tonight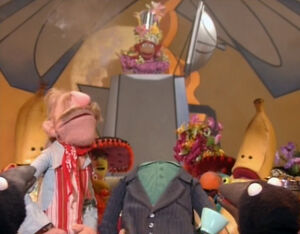 Episode 203: Heather Locklear: Steve's head explodes after drinking too much coffee in the opening number.
The Ed Sullivan Show
Change of Face: Southern Colonel's facial features get changed throughout the skit.
Sclrap-Flyapp: the snail-like creature get's his head blown off.
Come Together: a cowboy loses his arms and legs.
Sesame Street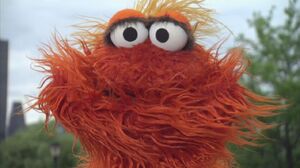 Vincente has his ears stolen by a Multimonstruo in a season eight episode.
Julie on Sesame Street
I Feel Pretty: A Large Lavender Live Hand Anything Muppet woman takes off her facial parts during the number.
Muppet Meeting Films
Franklin is decapitated in "The Meeting That Would Not Die." However, his head continues to speak, droning on, while his body stumbles around.
Leo and Grump remove various facial features on a Whatnot until he looks like the boss in "Nobody's Perfect".
The Balloon Audience loses their heads in "The Sky's The Limit".
From the Balcony
Loni Dunne gets her head knocked off by Tom Cruise Muppet in Episode 23.
Wilkins Coffee
"Lost my Head": Wilkins lost his head over Wilkins Instant Coffee.
Community content is available under
CC-BY-SA
unless otherwise noted.