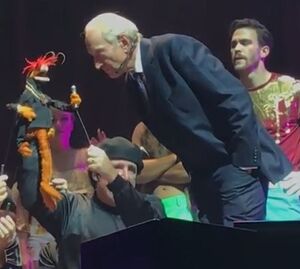 Charles Dance (b. 1946) is a British actor known for aristocratic portrayals that are often cold or aloof (and frequently villainous), ranging from period drama to scifi/fantasy projects (such as Game of Thrones). The classically trained performer was a guest for the Friday night performance of The Muppets Take the O2, reciting William Wordsworth's "I Wandered Lonely as a Cloud" before interrupted by Pepe the King Prawn (who calls him "Charles Dances-es.") The same routine was done on Saturday with Anthony Stewart Head. Dance also joined the other guests for the finale.
Training with the Royal Shakespeare Company, Dance began his film and television career with guest parts on Father Brown and Raffles before his first high profile role, as Sgt. Guy Peron in the series The Jewel in the Crown. He made his film debut in the 1981 James Bond entry For Your Eyes Only as a henchman, followed by more Hollywood villains in features like The Golden Child (with Eddie Murphy) and Last Action Hero (with Arnold Schwarzenegger), as well as an ally Alien 3 (with Sigourney Weaver). Dance played leads in two 1987 British films (White Mischief, Hidden City) and later supporting roles in Michael Collins, Gosford Park, Scoop, The Imitation Game, and 2016's Ghostbusters. He was cast to type as elder vampires in two Underworld entries and Dracula Untold.
Dance's TV career included further leads (Ian Fleming in the 1989 TV movie GoldenEye, the title role in NBC's 1990 The Phantom of the Opera), as well as the aloof husband of Rebecca (with Diana Rigg) and sinister lawyer Tulkinghorn in Bleak House. His most mainstream TV role came as Tywin Lannister on Game of Thrones for five seasons, followed by Judge Wargrave in 2015's And Then There Were None.
External links