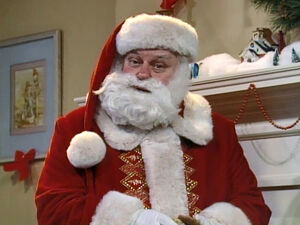 Charles Durning (1923-2012) was a veteran character actor who played the villainous Doc Hopper in The Muppet Movie. Durning fought during World War II, and after the war, sang and danced in nightclubs, with the Alvin Ailey Dance Company, and taught at the Fred Astaire Dance Studio. His dance experience was evident in his turn as the Governor of Texas in the film The Best Little Whorehouse in Texas, dancing a two-step.
He also made a brief appearance in the 1979 special The Muppets Go Hollywood, aired as a promotion for The Muppet Movie. In contrast to his Doc Hopper role, and referencing his experience as a hoofer, he dances with Miss Piggy, who must discourage a persistent Christopher Reeve from cutting in.
In 1996, Durning played Santa Claus in the Sesame Street special Elmo Saves Christmas. It would be the second of five telefilms where Durning would assume the red suit and beard of Santa.
Trivia
Sources
External links