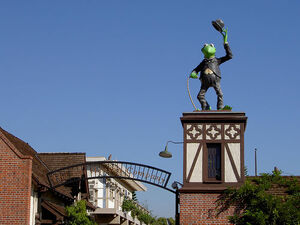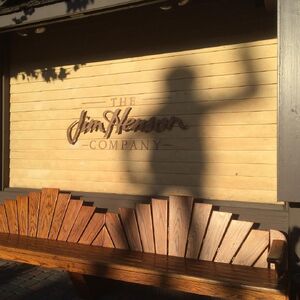 The Charlie Chaplin Studios was built by Charlie Chaplin in 1917, and became home to The Jim Henson Company in 1999. Chaplin shot many of his classic films at his studio on La Brea Avenue, including The Gold Rush, City Lights, Modern Times and The Great Dictator. A large statue of Kermit the Frog as Chaplin stands on the roof of the main building.
Not only is the studio available for sound stages and production offices, events like the Ebony magazine Oscar party is held there. The facility includes "The Screening Room" for 30, and "Backstage Kitchen", a restaurant area.
The studio was sold by Chaplin in 1957 to a new owner; among the films shot there was 1960 Roger Corman movie The Little Shop of Horrors (the basis for the musical Little Shop of Horrors). In 1959, it was sold to Red Skelton, and in 1961 to CBS to produce Perry Mason. From 1960 to 1963, William Hanna and Joseph Barbera housed their famous cartoon studio on the lot. From 1966 to 1999, the owners were the A&M Record Company; Herb Alpert and Jerry Moss were involved in creating recording studios out of two sound stages and a swimming pool.
In 2007, the studio lot was visited by the crew of Sci-Fi Channel's Ghost Hunters. The team investigate a series of ghost stories that have been told by employees for years. This idea was also featured in a special video edition of The Jim Henson Company Podcast for Halloween 2008.
The exteriors of the studio lot were redressed as Muppet Studios in November 2010 for the filming of The Muppets. It was briefly featured in some on-location footage during "Mah Na Mah Na" in The Muppets Take the Bowl.
The studio is not open for tours to the general public, but a visit is included in the Southern California itinerary for Adventures by Disney, a tourism venture managed by The Walt Disney Company.
External links